Our Vertical attic stairs is designed for vertical access (openings in a vertical wall, instead of a ceiling).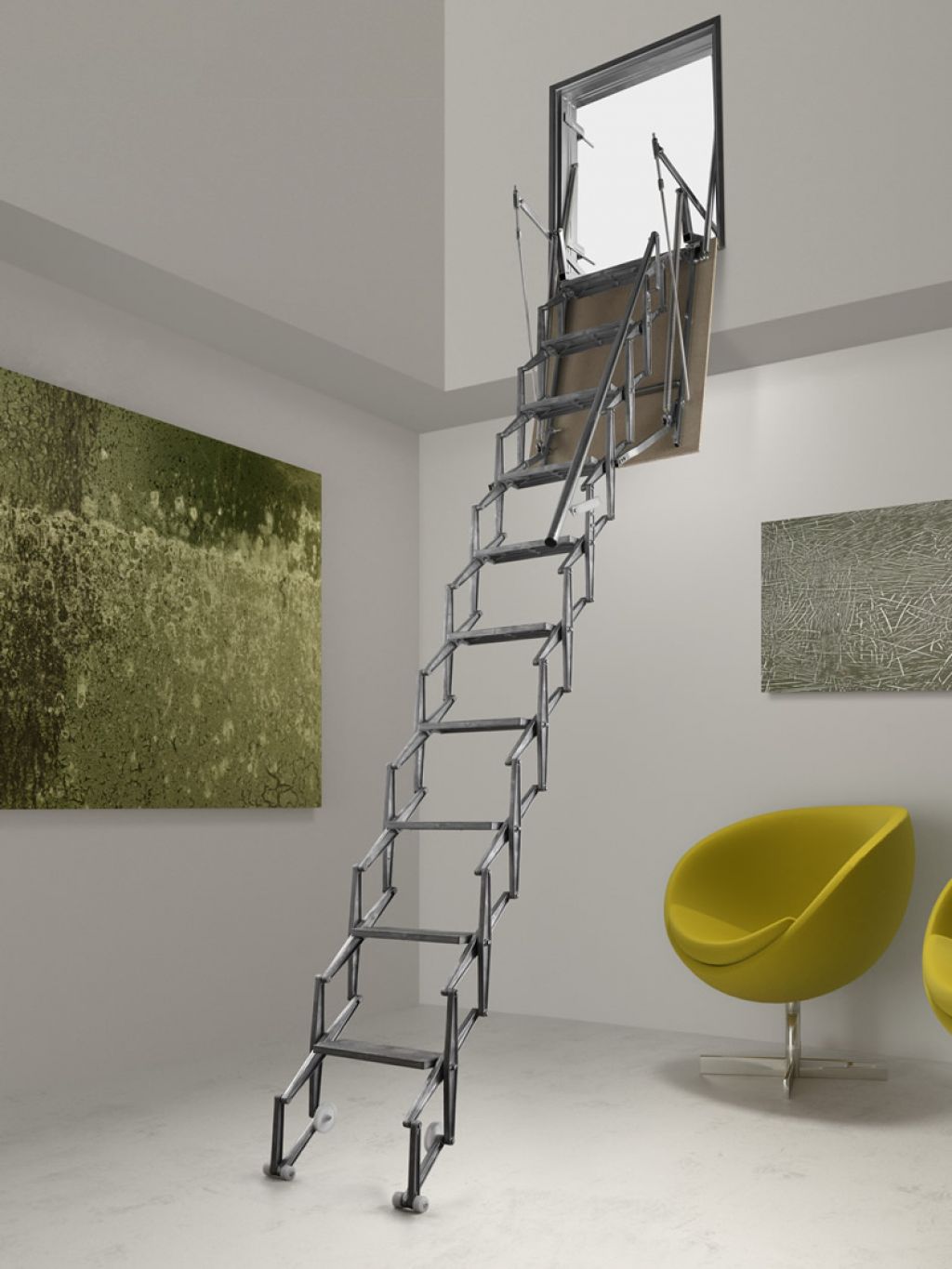 This vertical attic stairs has an excellently designed opening mechanism, both the hatch door and retractable scissor style ladder are spring loaded, meaning you do not have to take any weight while opening the hatch or pulling down the ladder, which can all be done with just the supplied pole. The ladder also features a telescopic handrail on the right hand side, for extra stability when climbing up. The hatch door is constructed of 16 millimetre poplar plywood with a 6 millimetre foil back insulation and rubber draft seal. The frame is 1.2 millimetre pressed sheet steel. This attic stairs is an excellent solution for customers who have access to their attic via an elevated opening in a vertical wall, who do not wish to have a permanent stairs installed. We have installed this model in many properties, both residential and commercial, throughout Ireland.
This product, like the Ultra High, Auto Electric and Mezzanine, is part of our "Custom" range, meaning that this is a bespoke product which is custom made to order for each customer. Because of this, there is a 5 – 6 week waiting period and we require a 50% deposit on ordering.
DESIGNED FOR VERTICAL ACCESS (OPENINGS IN A WALL)
DIE-CAST ALUMINIUM LADDER CONSTRUCTION
PRESSED SHEET STEEL FRAME
TELESCOPIC HANDRAIL
SPRING LOADED LADDER & DOOR MECHANISM
OPENING SIZES – From 700 x 600 to 1300 x 1000 (millimetres)
MAX FLOOR TO CEILING HEIGHT – 3.25 metres
FROM
€1295

SUPPLIED & FITTED